Glass Tray Experience
Experience one of the world's largest glass trays at the height of 310 meters from the 78th floor. Perfect for adventure seekers, take a photo standing on Bangkok's glass tray with a bird eye's view of the beautiful skyline below. Visitors will be required to cover their shoes with a disposable shoe cover. Please note that visitors will also be required to keep all loose items including mobile phones and other items away from the glass tray. Photography of your adventure on the glass tray is permitted from the official photo taking area.
Outdoor 360-degree Observation Deck
Thailand's highest outdoor observation area, with its highest point located at The Peak, 314 meters above ground level.
Hydraulic Glass Lift
Boarding area for hydraulic glass lift with panoramic views.
Augmented Reality Experience
Enjoy Bangkok's greatest landmarks through cutting edge Interactive Augmented Reality on the Mahanakhon SkyWalk. Learn about key historic sites and create memorable moments in your hand with a variety of gimmicks and the latest state of the art technology.
Indoor 360-Degree Observation Deck
Experience 360-degree panoramic views from the indoor observation area.
Mahanakhon Souvenirs
Take home a special memory of your time at Mahanakhon SkyWalk with beautiful postcards, available on the 74th floor. More souvenirs are available on the 4 th floor of King Power Duty Free & Retail.
Mahanakhon Lobby
Dedicated spacious and elegant lobby area with ticketing counters.
Digital Walls
A corridor of digital walls before reaching the elevator boarding area.
Multimedia Elevators
Step into Southeast Asia's fastest elevators and reach the 74th floor than 50 seconds! The interior walls of the elevators are covered with digital screens that lead you on a mesmerising journey through your way up and down the building.
MAHANAKHON SKYWALK
TICKETS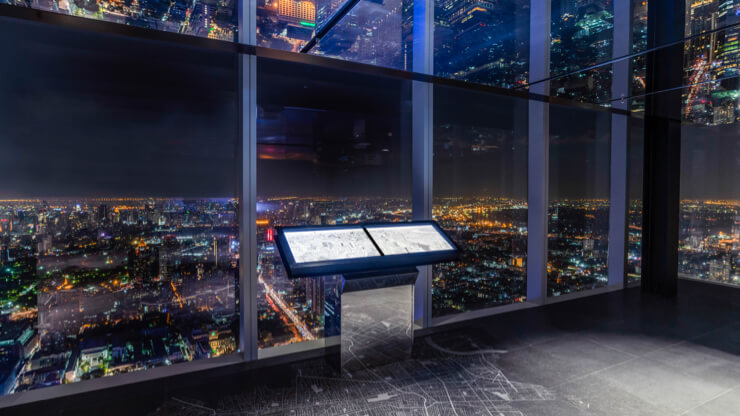 MAHANAKHON SKYWALK
OBSERVATORY
Board one of the fastest video themed elevators in the world to experience incredible 360 panoramic views of Bangkok from our premium indoor observation hall, 'The Observatory' located on levels 74 and 75. Here you will also enjoy endless photo opportunities.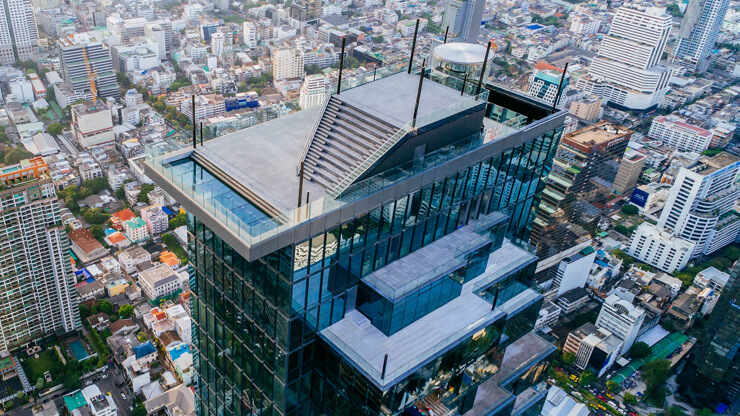 MAHANAKHON SKYWALK
OBSERVATORY & ROOFTOP
Upgrade to elevate the Mahanakhon Observatory experience by gaining access to the 310 meter high outdoor observation deck on level 78 via a hydraulic glass lift. Enjoy a unique glass floor experience by stepping onto the 'The Glass Tray' and climb to 'The Peak' at 314 meters for a 360-degree view on top of King Power Mahanakhon Bangkok. Don't forget to enjoy a drink and snack at one of the highest rooftop bars in Southeast Asia.
MAHANAKHON SKYWALK
EXPRESS PASS
Speed up your way to the top by upgrading your regular Mahanakhon SkyWalk Observatory & Rooftop access for fast tracked access through a dedicated Express Pass holder line.